Historic house and moving brick.
When I first saw the brick work on this historic 1808 townhouse in Alexandria, Virginia I was concerned.  Movement and bulging was immediately evident.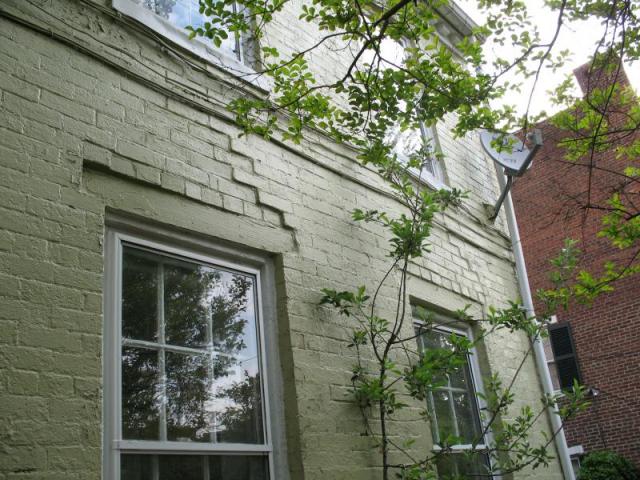 The movement was a broad bulge that began between the two windows, and proceeded from top to bottom.
The cement lintels over the windows can also be seen to have moved.
Looking elsewhere there was similar bulging of the foundation wall on this same side.
And the brick work was nicely painted with no cracking in the paint.
While the windows were not original, obviously, they had not been damaged in any way due to the brick movement.  New windows were intentionally installed that looked "period."
But also concerning, the mortar was generally very soft and I was able to get it to come off easily onto my finger.  Certainly this softening has encouraged movement, including the interior walls.
An investigation by an engineer was recommended, and one came.  Having experience with historic homes in this area the engineer said that this kind of softening and movement is NOT atypical for homes of this age and era!  Looking inside and out he was satisfied that the house was safe.
When I said I was a bit surprised not to see structural stars (click here) to prevent movement on the side of the house, he smiled and said those were very "upper middle class" and many homes such as this one did not have them.
This home is nearby to a famous 18th and 19th century restaurant that was a favorite of the Founding Fathers.  The restaurant still uses a couple of Martha Washington's recipes!  Looking at this house, and its age and location, I wondered if any of those Founding Fathers actually visited here?
My recommendation:  when things are seen that have not been seen before, like this sort of movement in older brick work, it's best to investigate further.  In this case the news was good!  Sometimes it is not.  But buyers need to be satisfied and comfortable before making a purchase of something like this.  And here, all was well that ended well.
Jay Markanich Real Estate Inspections, LLC  
Based in Bristow, serving all of Northern Virginia.
Office (703) 330-6388   Cell (703) 585-7560